October 21, 2022
E11 New French Extremity: 'Trouble Every Day' With Dr. Kate Robertson
A discussion of a difficult, polarizing film with our very first guest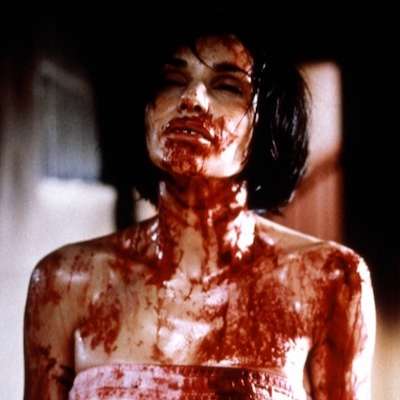 "Trouble Every Day" (2001), co-written by Claire Denis and Jean-Pol Fargeau and directed by Denis, follows the intersecting stories of two couples: Léo (Alex Descas) and Coré (Beatrice Dalle) Semeneau and Shane (Vincent Gallo) and June (Tricia Vessey) Brown. Shane and Léo previously met on a research expedition to the South American jungle in search of a plant that would lead to a breakthrough in neurobiology. Léo led the expedition and Shane was there on behalf of a US pharmaceutical company. When the film begins, the Browns are on their honeymoon in Paris, but we eventually learn that it's all just an excuse so that Shane can find Léo. It turns out that at some point, Shane was infected with the disease that Léo is working to solve through his research and that his own wife, Coré also suffers from. The disease creates an unquenchable hunger in its host, compelling them to fuck, murder, and consume people. Eventually, Shane finds the Semeneau house, but Léo isn't there … it's just Coré, alone, covered in blood, and wandering around in a daze.
While I was able to summarize it, this isn't the type of film that has a clear plot with spelled out motivations. Many questions are left unanswered and certain story threads never quite come together. The film is less about a linear narrative and more about feelings, overarching themes, and fleeting impressions.
Here are some things we mentioned during the episode that we think you should check out:
Other films we recommend watching if "Trouble Every Day" piqued your interest:
"In My Skin" (Marina de Van, 2002) -- Lindsay's favorite NFE
"The Addiction" (Abel Ferrara, 1995) -- Young Edie Falco!
"Dressed to Kill" (Brian De Palma, 1980)
"Shivers" (David Cronenberg, 1975)
"Un Chien Andalou" (Luis Buñuel, 1929)
"Cat People" (Jacques Tourneur, 1942)
"Poison" (Todd Haynes, 1991)
"Raw" and "Titane" (Julia Ducournau, 2016 and 2021)
"A Girl Walks Home Alone at Night" (Ana Lily Amirpour, 2014)
"Caché" (Michael Haneke, 2005)
"Fat Girl" (Catherine Breillat, 2001)
"The Hunger" (Tony Scott, 1983)
"After Midnight" (Jeremy Gardner and Christian Stella, 2019)
"Spring" (Justin Benson and Aaron Moorhead, 2014)
"Crimson Peak" (Guillermo del Toro, 2015) -- Mia Wasikowska!