February 20, 2023
E16 Joanna Hogg's "Souvenir" Trilogy is a GD Delight!
A discussion of "The Souvenir," "The Souvenir Part II," and "The Eternal Daughter"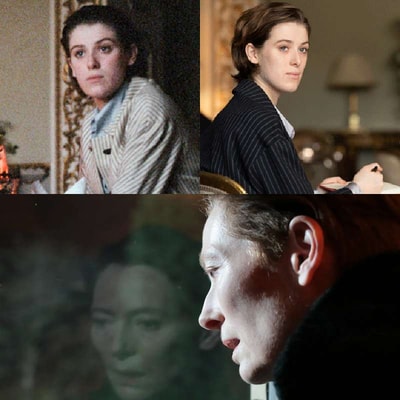 The "Souvenir" films follow a character named Julie, a filmmaker who grew up in Norfolk as the only child in a posh, uppercrust family with parents played by Tilda Swinton and James Spencer Ashworth. The character is loosely autobiographical, which is something Joanna Hogg has discussed in several interviews. All of the old, Super 8 footage featured in the films comes from Hogg's own time in film school and Julie's Knightsbridge flat In the first two films of the trilogy is a recreation of Hogg's own flat at that time (among several other parallels).
Julie, played by Honor Swinton Byrne, lives in London and attends film school. The first film centers around Julie's relationship with Anthony (Tom Burke), a guy she meets at a party and grows increasingly attached to despite many glaring red flags. At the end of the film, he dies of a heroin overdose. In "The Souvenir Part II," Julie starts processing her grief through a new, feature-length film about her relationship with Anthony. While the first film is more about her relationship and how it affects her artistic ambitions, the second film is centered around those artistic ambitions and how she melds them with her personal life for both self understanding and a form of therapy. The third film, "The Eternal Daughter," shows Julie, now much older and played by Tilda Swinton, on vacation with her mother, Rosalind (also played by Swinton), at a hotel that was once her family home.

Other shit you should check out:
Sadly, Joanna Hogg's mom has passed. Hogg makes a reference to her being alive in the 2022 Roger Ebert interview, but I think she's talking about in 2015, not present day. This LA Times piece says she died during editing of "The Eternal Daughter."