July 19, 2022
E6 Teen Favorites: 'Jawbreaker'
Jo watches one of teen Lindsay's favorite movies for the first time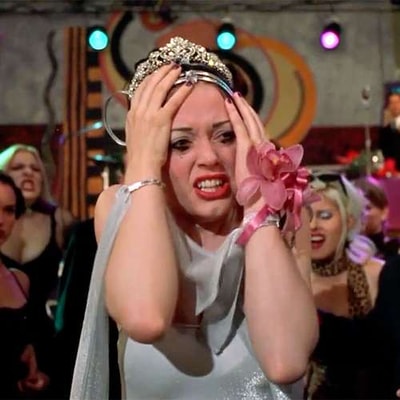 In Darren Stein's 1999 cult classic, "Jawbreaker," Courtney (Rose McGowan), Marcie (Julie Benz), and Julie (Rebecca Gayheart) kidnap their best friend, Lizz Purr (Charlotte Ayanna) on her birthday and end up accidentally killing her. The original plan was to tie Liz up, throw her in the trunk of Courtney's car, and drive her to a local coffee shop for some pancakes. Only ... when the girls open the trunk, ready to take a surprised pic of Liz on a Polaroid camera, she's completely unresponsive, choked to death on a jawbreaker that Courtney used as a makeshift gag. While Marcie and Courtney freak the fuck out, Courtney coolly devises a plan for how they'll handle the situation. What she doesn't account for is nerdy Fern Mayo (Judy Greer) catching the girls in the midst of the cover up and throwing a wrench in their plans.
Here are some things we mentioned during the episode:
Also, IDK what I was thinking ... "Jawbreaker" came out on DVD shortly after the VHS release. I probably did watch it on DVD, but who knows. My memories from the early aughts are hazy at best. I can't even remember the last name of the boyfriend I first watched this movie with.
Oh, and to give you an idea of how wild the late '90s were when it comes to teen movies, here are some others that came out right before or after "Jawbreaker" in 1999:
"Cruel Intentions" (Roger Kumble)
"Drop Dead Gorgeous" (​​Michael Patrick Jann)
"Election" (Alexander Payne)
"But I'm a Cheerleader" (Jamie Babbit)
"She's All That" (Robert Iscove)
"Never Been Kissed" (Raja Gosnell)
"American Pie" (Paul Weitz)
"Drive Me Crazy" (John Schultz)
"Varsity Blues" (Brian Robbins)
"10 Things I Hate About You" (Gil Junger)
"Dick" (Andrew Fleming)
"Teaching Mrs. Tingle" (Kevin Williamson)
"Idle Hands" (Rodman Flender)
This was also the same year Ryan Murphy's "Popular" premiered.